From May 14 to 17, at Le Van Tam Park (District 1, Ho Chi Minh City) will take place the Ho Chi Minh City Tourism Festival 2022. This is an annual tourism event organized by the Department of Tourism of Ho Chi Minh City. and Ho Chi Minh City Tourism Association organized with the participation of the tourism industry in the provinces and cities nationwide and a number of countries in the region and the world. Binh Thuan Tourism will participate in introducing and promoting the destination image at the Ho Chi Minh City Tourism Festival in 2022.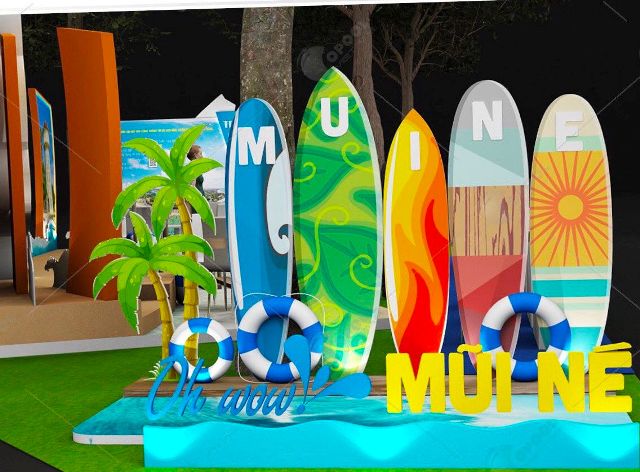 (Space for visitors to check-in; Photo: Thanh Thoa)
Responding to the plan to open tourism in the new normal condition, the Ho Chi Minh City Tourism Festival in 2022 has the theme "Vivid, experienced" including many activities such as: introducing tourism stimulus programs in different locations. parties to the event; national workshop "Regional linkage in training and development of high-quality tourism human resources in Vietnam after the Covid-19 pandemic"; seminar "Vietnam Tourism - Welcoming guests during the summer of 2022"; meet and exchange online with Travel Bloggers; Finals Charming Ao Dai; introduce the tourism program linking Ho Chi Minh City and the Mekong Delta; survey to introduce typical tourist destinations and products of Ho Chi Minh City; launching a contest to design souvenirs for tourism in Ho Chi Minh City; performing arts programs of provinces and cities...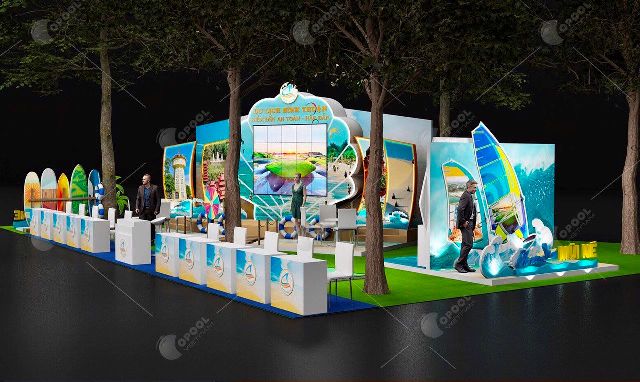 (Design of Binh Thuan tourist booth with open space; Photo: Thanh Thoa)
Coming to Ho Chi Minh City Tourism Festival in 2022, Binh Thuan tourism booth is located in the center of the event with the theme "Safe and attractive destination". With an area of ​​over 260m2, the pavilion has an open space design towards visitors, introducing many typical highlights of Binh Thuan tourism such as sea sports, Water Tower, Bau Trang, Mui Ne Sand Dunes, Po Sah Tower. Inu, fishing village, dragon fruit garden, cuisine. Besides the areas to invite guests with lively programs, travel quizzes with prizes, tourist gifts, the booth also arranged a number of locations for guests to check-in such as sea sports, beaches. dreamy sea, golf practice area, 3D virtual reality travel experience about Binh Thuan landscapes. In particular, on the stage of the booth, a special art performance program was continuously held by artists and actors of the Blue Sea Music and Dance Theater - Binh Thuan.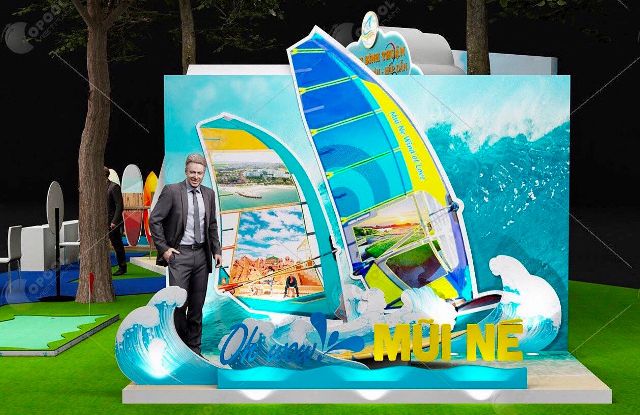 (Check-in point at the booth; Photo: Thanh Thoa)
Towards the introduction of new tourism products, tours and especially the 2022 summer tourism stimulus program, the Provincial Tourism Promotion Information Center together with tourism brands such as NovaWorld Phan Thiet, Hoang Ngoc Resort , Little Muine Resort, The Sailing Bay Resort, Bamboo Village Resort, Muine Unique Resort, Saigon - Muine Resort, Radisson Resort and Sand Beach Resort introduce unique entertainment services to the market in Ho Chi Minh City and southern provinces. , attractive promotions, many interesting product packages, many typical coastal gifts, golden hours to stimulate tourism and especially the tourism stimulus program "Hello summer 2022" with most services When guests come to visit and relax in Binh Thuan, such as accommodation, transportation, attractions, entertainment, relaxation, shopping, dining, all discount from 10-30%.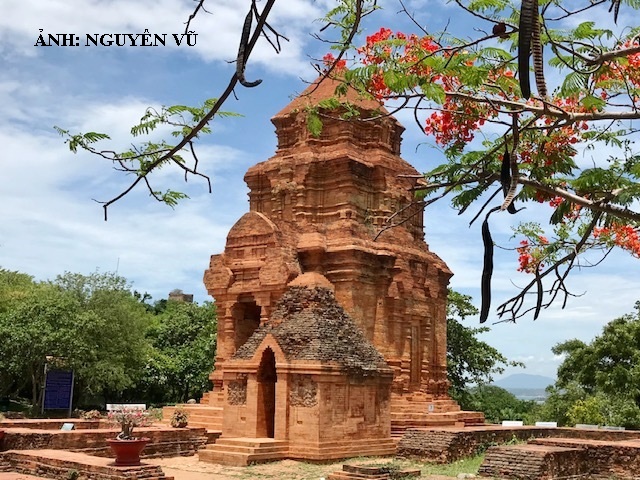 (Introducing attractions of Po Sah Inu Tower; Photo: Nguyen Vu)
Nguyen Vu