Implementation of Resolution No. 10-NQ/TU dated March 18, 2022 of the Provincial Party Committee (Term XIV) on digital transformation to 2025, orientation to 2030, including digital transformation content In the field of tourism, the tourism industry has been promoting the application of digital technology in tourism development in Binh Thuan.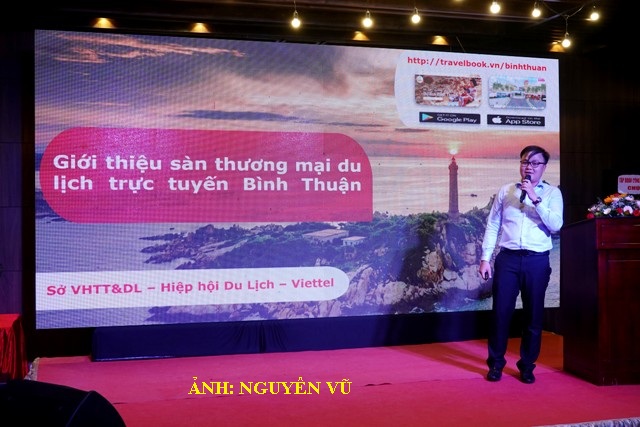 (Representative of Viettel Group introduced Binh Thuan Trade and Tourism Floor; Photo: Nguyen Vu)
Along with the UK - Vietnam tourism website, which is doing a good job of informing and promoting destinations, over the past time, the tourism industry has been applying digital technology in the construction, design, and operation of the Tourism Portal. Provincial smart tourism and Binh Thuan tourism trading floor integrates a variety of features and utilities such as: electronic tourist map, route search, online booking, online payment, online consultation, guidance Online sightseeing, online customer care, online travel event organization... serve the needs of searching, interacting and transmitting information and tourist images of people, tourists and tourists. tourism business community.

The tourism industry has also used smart utility software to support visitors such as 3D virtual reality travel experiences, QR code scanning utilities (quick information response codes) of places of interest, theory systems, etc. Automatic intelligence at some historical - cultural sites, digitization of tourist information. Besides, the promotion and communication of tourism in the past time has always been promoted on social networking platforms such as Facebook, Youtube, Tiktok, Instagram... At the same time, the tourism industry is also actively cooperating. with telecommunications groups (VNPT, Viettel, FPT...) to deploy smart tourism projects, digital transformation, build a smart tourism ecosystem, produce software and information utilities for tourism activities in particular and the province's tourism industry in general.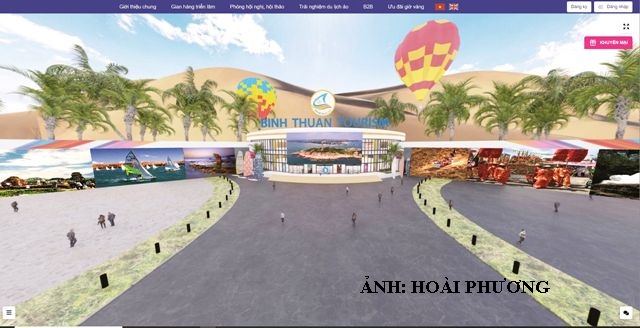 (Utility interface to organize an online tourism fair; Photo: Hoai Phuong)
Binh Thuan Tourism is also coordinating and supporting tourism businesses to promote the application of digital technology in testing and creating new products and services. As can use design software to turn products, services, and spaces into beautiful, shimmering pictures, into attractive and unique tourist attractions that tourists cannot ignore. when coming to Binh Thuan. Or can fully exploit information technology - the internet to introduce culinary culture, extremely attractive, unique and flavorful dishes to tourists. In addition, the tourism industry also quickly grasps new trends, actively applies digital technology in advertising and promotion activities, product introduction, transactions, tourism management, tourist support. schedule to find safe, friendly and attractive destinations in Binh Thuan, best meeting all the information needs of tourists.

According to statistics of the Vietnam E-commerce Association (VECOM), the rate of domestic tourists booking hotel rooms and booking tours online reaches more than 60%; the rate of international visitors using these two services reached more than 75% (in 2018). According to another survey with international visitors to Vietnam, up to 71% of tourists consult destination information on the internet; 64% book and purchase services online when arriving in Vietnam. Tourists can be seen using the internet, smart gadgets, smart devices to search for information, refer to destinations, compare and choose services, make tour purchases, make reservations, Online payment tends to increase, demonstrating the importance of technology application in tourism development. Thus, the tourism industry has been actively and effectively applying digital technology in the sustainable development of tourism in the province.
Nguyen Vu