- So another new year comes to Phan Thiet city (Binh Thuan). Spring comes, the earth and sky become warm and people's hearts can't help but be excited and joyful. Everyone wishes a new year full of joy and happiness, but most of all, prepare for a new spring with family.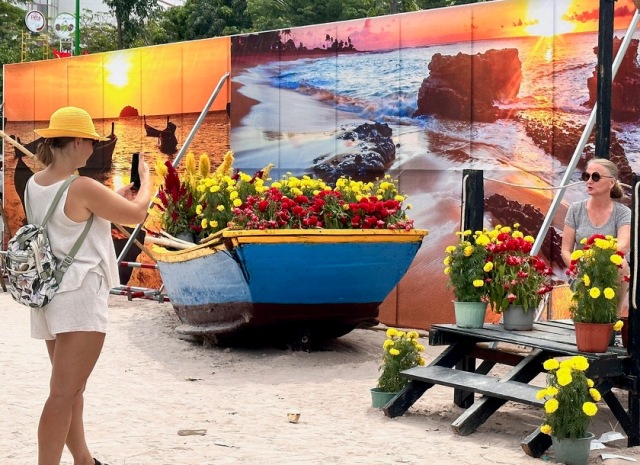 (International guests take souvenir photos at Phan Thiet Spring Flower Street; Photo: Nguyen Vu)

Tet hits the alley, the streets are colorful, the flow of people goes back and forth. The atmosphere of Tet in the last days of the year is cheerful and bustling. Everyone is in a hurry, hoping to prepare a cozy and full Tet for the family.

Pass by Phuong market (Phu Trinh, Phan Thiet) to feel the crowd. Both sellers and buyers buy quickly and sell quickly to get home soon to compose Tet. The items on sale are diverse from fresh food to dry food, banh chung, fruits, flowers, all kinds of worship items...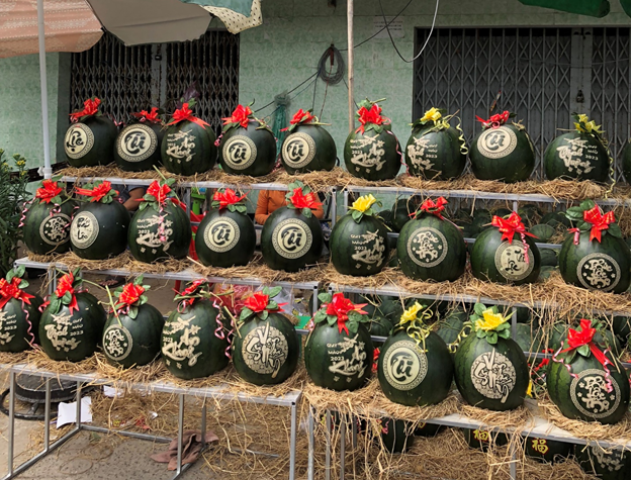 (Photo: Nguyen Ngoc)

Ms. Nguyen Thi Thu Ha (living in Phu Trinh) said that in the past few days, she also bought a sketch map. Go buy more to complete today. "In the last days of the year, I mainly buy cooking utensils and make offerings to the ancestors, so I don't even bother to pay the price. Besides, I think the price is also stable this year, "said Ms. Ha.

Along Le Duan Boulevard are rows of ornamental plants and flowers that are sold on the sidewalk. Different from the pink color of the traditional confetti, the bougainvillea trees with all colors of pink, purple, yellow, white, orange, and red stand out on a street corner. Pots of raspberry daisies or marigold flowers also show off their bright yellow color in the spring sunshine. In the distance are rows of yellow apricots with delicate petals interspersed with young green buds fluttering as if playing in the wind. The golden color of apricot brings the hope of fortune, brightness, warmth and joy.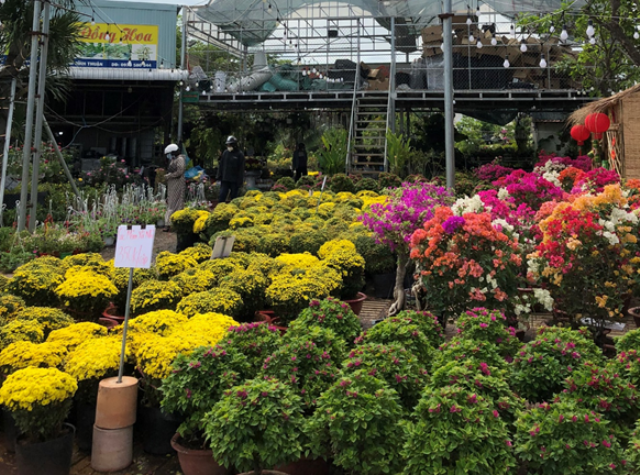 (Photo: Nguyen Ngoc)

Modern trending watermelons are transformed through unique sculptural art. "Phuoc Loc Tho", "An Khang", "Spring Prosperity", "Van Su Nhu Y" are messages that never get old in every New Year to Spring. Perhaps so, the lines of sculptures like to say about a perfect new year...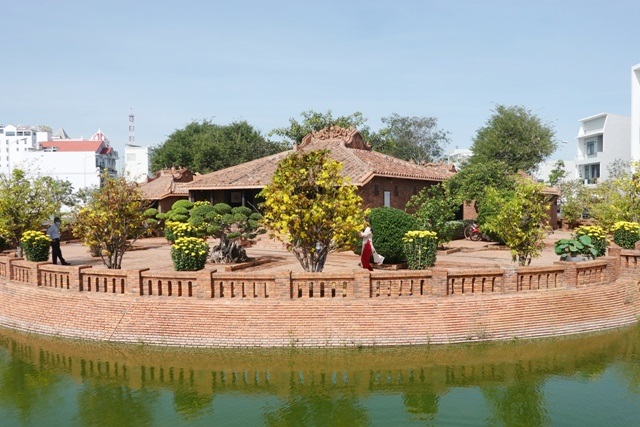 (Thanh Minh is on the same day as the Lunar New Year; Photo: Nguyen Vu)

A tour of the coastal city of Phan Thiet in the days leading up to Tet to fully feel the traditional Tet space, share with everyone the joy when the new year is coming and join the joy with guests from all over the world. Go to Mui Ne - Phan Thiet to experience the Vietnamese New Year culture and then wait for the New Year's moment to celebrate the year of the Rabbit!

Nguyen Ngoc